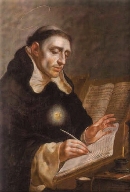 LUTHERÁNSKÝ ARISTOTELISMUS
– PHILIPP MELANCHTHON
Tomáš Nejeschleba

SUMMARIUM
De philosophia Aristotelico-Lutherana apud Philippum Melanchthonem



In hac dissertatione elementa principalia relationis Philippi Melanchthonis ad philosophiam Aristotelicam in dialectica, ethica et philosophia naturali summatim exponuntur. Quamquam Melanchthon iuvenili aetate renascentis aevi virorum doctorum mentem de litteris Graecis-Latinisque ad pristinam puritatem restaurandis secutus est, tamen doctrina eius Aristotelica nullo modo "pura" putanda est. Imprimis eius de "notiis naturalibus" opinio, quae magnam vim ad eius dialecticam, ethicam, de cognitione doctrinam habuit, Aristotelica haud dicenda est et Platonis potius auctoritatem redolet. Finis, quem Philippi Melanchthonis philosophia Aristotelica recipienda prosecutus est, imprimis Lutheranismi et apologia et propagatio esse videntur. Ita dialectica et rhetorica, quam praebet, exegesi Sacrae Scripturae quasi unice inservire debebant. Simili ratione ductus Melachthon medii aevi theologorum de felicitate opinionem reiecit, et anthropologiam (quam dicunt) in Legis et Evangelii dialecticam collocabat. Idem eius naturalis philosophia, quae fere tota Dei providentiae declarandae vota est, innuit. Quoniam Malanchthonis Aristotelicae docrinae receptio adeo a principiis theologicis M. Lutheri pendet, Aristotelico-Lutherana apte nuncupanda videtur.



SUMMARY
Lutheran Aristotelianism – Philipp Melanchthon



This article summarises the basic features of Melanchthon's approach to Aristotle's philosophy in the areas of logic, ethics and natural philosophy. Although Melanchthon builds upon the humanistic ideal of purifying classical heritage, his Aristotelianism should not be viewed as 'pure'. His conception of natural knowledge (notitiae naturales) could be regarded as a significant non-Aristotelian element of his philosophy. The view consequently penetrates his logic, ethics as well as epistemology. Primarily, however, the reason behind his reception of Aristotle is a defence of Luther's views: the aims of logic and rhetoric lie in the exegesis of the Bible within the context of the principle of ' Sola Scriptura'; he rejects the medieval concept of felicity and puts antropology into the dialectics of Law and Gospel; the aim of natural philosophy is the exposition of the existence of God's Providence. Melanchthon's reception of Aristotle is thus influenced by the theology of the Reformation to such an extent, that we might refer to it as Lutheran Aristotelianism.