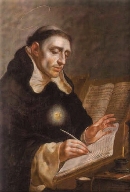 PROLEGOMENA TO A STUDY OF BEINGS OF REASON
IN POST-SUAREZIAN SCHOLASTICISM, 1600–1650
Daniel D. Novotný

SUMMARIUM
Prolegomena ad doctrinam de ente rationis,
ut post Suarezium a scholasticis tractabatur.



Anno 1597 Franciscus Suárez tractationem comprehensivam de entibus rationis ut partem suarum Disputationum Metaphysicarum in publicum proposuit. Scholastici sequentes de diversis eius doctrinae partibus vero cum vigore disputabant. Huius dissertationis scopus est, aliquas harum quaestionum ad hanc litem pertinentium, circa quas prima parte 17. saeculi maxima evolvit discordia, prae oculis ponere. In particulari auctor in hac dissertatione entis rationis comprehensionem, extensionem, divisionem (in negationes, privationes, relationes rationis), et causas pertractat, et modum, quo Suarezii sententiae nonullas controversias intra communem doctrinam incenderunt, explicat. Ex his controversiis ultimatim (praesertim apud Iesuitas) variae novae conceptiones emerserunt, a veterum doctrina communi de entibus rationis radicaliter diversae.



SUMMARY
Prolegomena to a Study of Beings of Reason
in Post-Suarezian Scholasticism, 1600–1650



In 1597 Francisco Suárez published a comprehensive treatise on beings of reason (entia rationis) as part of his Disputationes metaphysicae. Subsequent scholastic philosophers vigorously debated various aspects of Suárez's theory. The aim of this paper is to identify some of the most controversial points of these debates, as they developed in the first half of the seventeenth century. In particular, I focus on the intension and the extension of 'ens rationis', its division (into negations, privations and relations of reason) and its causes. Additionally, I will discuss how Suárez's views sparked a number of debates within the classical view, debates which ultimately led to the emergence of various alternative theories, especially among the Jesuits. These non-classical views radically revise the previous classical conception of beings of reason.